A History of "Firsts"
Berkshire Hathaway HomeServices Parks & Weisberg Realtors has long been recognized as a progressive organization of "firsts."
First to start the Condominium Council
First to start the Property Management group
Frank Weisberg, the first CCIM in Kentucky
Pat Parks, known nationally for her training programs, was the first National Women's Council President from the area
The first full service relocation department in the area
The first real estate company to start a mortgage company HUD approved in Kentucky and Indiana and offering a variety of mortgage options
75% of all agents nationally eCertified®
Recognized locally and nationally for the strength of their training initiatives, Pat Parks served as the catalyst to get the firm nationally certified in 1974 by Merrill Lynch to start the inception of the first national third party purchase program in the US.
Interested in joining our team? Click here!
A Tradition of Excellence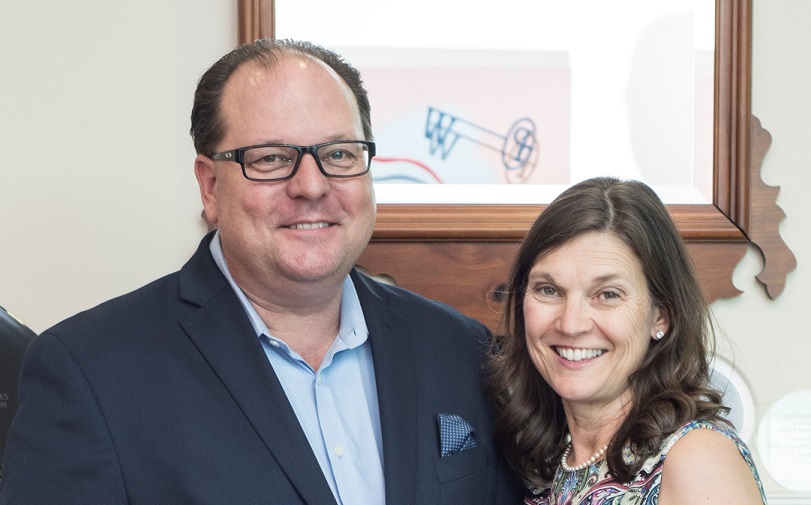 For nearly 70 years, Berkshire Hathaway HomeServices Parks & Weisberg, REALTORS has served communities in Kentucky and Indiana. Setting the standard as a premier real estate company in residential property sales, commercial property sales and property management, Berkshire Hathaway HomeServices Parks & Weisberg, REALTORS has achieved tremendous growth, customer satisfaction and industry accolades for its commitment to satisfying the needs of its buyers and sellers. Started by Lewis Bass and Charles Weisberg in 1952, the company has evolved from the first owners riding street cars to show property, to one of the most respected names in real estate. In 2008, siblings Dave and Judie Parks purchased the firm and took over the mantle of leadership from Pat Parks, Frank Weisberg and Ron Weisberg who led the company for decades. In late 2019, the Parks Family joined forces with James Cook, a respected leader in the Warren County and Bowling Green markets. The company is now operated under the banners of both Berkshire Hathaway HomeServices Parks & Weisberg Realtors and the Berkshire Hathaway HomeServices Partners Realty Brands.
Berkshire Hathaway HomeServices Parks & Weisberg, REALTORS has been recognized both within the Kentucky and Indiana communities, as well as within the national real estate industry. The company, known for its excellence in education, relocation and community service, receives accolades from the real estate industry at large and many of its agents have served in a variety of leadership positions within the industry. The current owners, David L. Parks, Jr. and Judie Parks, are Louisville natives who believe in selling the community first and come from a real estate family steeped in tradition.
Meet the people of Berkshire Hathaway HomeServices Parks and Weisberg, REALTORS
Pat Parks

CRB, CRS, LTG

President & CEO

Berkshire Hathaway HomeServices Parks and Weisberg, REALTORS

Leadership roles on local, state, and national levels, combined with outstanding sales and administrative records make Pat Parks' career impressively successful. Holding four professional designations, she serves as a role model for the real estate community.

As President of the company, Pat coordinates nearly 70 associates at Berkshire Hathaway HomeServices Parks & Weisberg, REALTORS and is the managing arm. Her expertise has helped to guide this company as the largest privately owned full service company with offices in both Louisville and Southern Indiana.

The well-known executive has been named:

Louisville Realtor of the Year
Kentucky Realtor of the Year
Kentucky WCR Woman of the Year
Director of the KY Association of Realtors
National Director of NAR
President of the Greater Louisville Association of REALTORS
President of MSI (Twice)
Past President of the Real Estate Education Foundation
President National Women's Council of REALTORS

Pat's dedication to upgrading Realtor professionalism is apparent as she shares her nationally recognized education program from coast to coast. As 1984 national president of the Women's Council of REALTORS (WCR), she traveled more than 100,000 miles in 35 states and four foreign countries, spreading the professional Realtor message. Pat has written and taught real estate and personal development courses nationally and internationally. She was also instrumental in formulating a designation program geared to leadership. The LTG designation was founded in 1984 and Pat hold designation #1. That program served as the springboard for REALTORS to acquire leadership skills and speaking skills. In 2006 it became PMN designation.

Pat currently serves on the National Governing Board of the Women's council of REALTORS

Dave Parks

ABR, CRB

Broker/Owner

Berkshire Hathaway HomeServices Parks & Weisberg, REALTORS

St Xavier High School 80'
Ohio State University BSBA 92', Magna Cum Laude with Distinction
Retired Marine Officer Capt USMC Ret 2001
Dave has an extensive sales and sales training background which includes several in residence training and train the trainer programs at the Xerox Institute in Leesburg, Virginia
He also served as Operations Officer Recruiting Station Cincinnati, OH 97-98
Executive Officer Recruiting Station Cincinnati, OH 98-99 (Ohio State University and Southern Ohio Market), Officer Selection Officer Ohio State University 99-00, Top 5% of Officer Selection Officer's United States, Assistant for Officer Procurement 00-01 4th Marine Corps District, USMC #1 District in the Nation for Officer Procurement by Component and Category
Dave has managed and led sales people at all levels for over 25 years
He is Co-Founder, and twice President Brownsboro Road BNI Group
Chairman's Circle Award Winner Berkshire Hathaway HomeServices Network 2003, 2004, 2005, 2006, 2007, 2008, 2010, 2011, 2012, 2013, 2014
President's Circle Award Winner Berkshire Hathaway HomeServices Network 2002, 2009
Legend Award Winner 2008 (Only three in the State of Kentucky)
Owner- Partner Berkshire Hathaway HomeServices Parks & Weisberg REALTORS 2008 with his sister Judie
Dave is the Chairman of the Long Range Planning Commitee Big Spring Country Club, on the Board of Directors for the Greater Louisville Association of Realtors, The Louisville Building Industry Association and Business Network International Kentucky Region
Dave has been actively involved in building and developing of real estate, owns and manages investment property, and is adept at commercial real estate representation that is not industrial or High Rise.

Dave has been married to his lovely wife Jenny since March of 1986 and is the proud father of two daughters, Kate and Jessica. Dave is proud to say that his keys to success and to the success of his agents is the persistent application of highly refined and hard earned skills and to under promise and over deliver.

Judie Parks

GRI, CRS, CRP

Principal Broker/Owner, Director of Relocation and Business Development

Berkshire Hathaway HomeServices Parks & Weisberg, REALTORS

Making the transition from computer engineer to successful Realtor was an easy one for Judie. The tools and skills that she learned in Engineering School enhanced her ability to help "problem solve" for her clients. In addition to selling over $200,000,000 in residential real estate, Judie serves as the Relocation Director and Director of Business Development for Berkshire Hathaway HomeServices Parks & Weisberg, REALTORS. She loves the city of Louisville and has dedicated the majority of her sales career to working with relocating buyers.

Designations held: GRI, CRS, CRP
Berkshire Hathaway HomeServices Legend Award: Twice
University of Louisville, Master of Engineering 1987
Assumption High School 1981
Ford Motor Computer 1987-1990
Humana 1985-1987
Naval Ordinance: Two internships 1983, 1984

Hobbies: Reading, Cooking and Gardening. Judie walks daily with her dog, Bella. She has been married to Tim Gornet, a native Louisvillian, since 1987. They have three bright and energetic boys, Austin, Alex and Ben. Judie is grateful that she has four very strong, kind and understanding men standing behind her on a daily basis. She says they are her success!