How to Build Structure at Home with Your Kids
Posted by Lauren Thomas on Tuesday, March 24, 2020 at 12:16 PM
By Lauren Thomas / March 24, 2020
Comment
With Kentucky and Indiana moving towards shelter-in-place precautions, parents are going to face a lot of time entertaining bored and antsy children. A way to make your life and your child's life easier is to consider drawing up a daily schedule. This can not only give your child something to visualize so they know what to expect, but it will also help you add a bit of structure to your days as well.
The schedule below is an example of one being shared on twitter by @ChrisHerrington: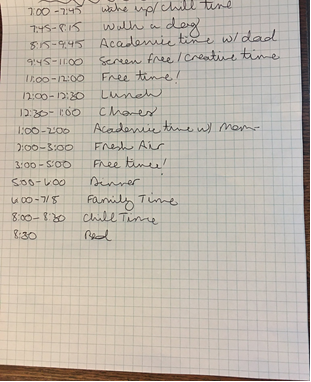 Some fun and enjoyable ways to keep your kids entertained and educated are as followed: paint by numbers, dream boards, learning a new language, take e-tours of famous museums such as the British Museum or Louvre, use baking to teach them about science, or even use a messenger app to create an online book club.
Staying busy is going to make this whole process feel shorter and smoother! Stay safe and healthy. Please comment below with any other fun and unique ways you are entertaining your children or family!