One neighborhood in the Highlands is reminding us that there are fun and unique ways to stay social while you are social distancing!
The Tyler Park community took advantage of the beautiful weather this past Friday by bringing their family and pets out to the patio for some lounging time with friends and neighbors. WHAS 11 reported on the "Front Porch Friday" highlighting the neighborhood for making the most of the social distancing guidelines.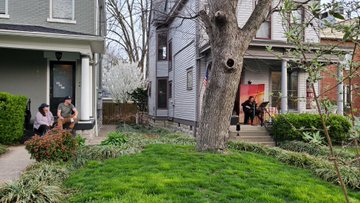 (Photo Credit: @WHAS11Hasch on twitter)
Some had radios playing while others actually had instruments out and were playing for their neighbors. The president of the Tyler Park neighborhood, Shawn Reily, has said they plan on keeping Front Porch Friday going until May 1st or until the social distancing restrictions are removed.
Are your neighborhoods doing anything similar? Do you have fun and safe ideas to stay social while social distancing? If so, please comment below or email me at marketing@bhhspw.com
Stay tuned for our blog series giving a deeper dive into the various Louisville neighborhoods!
...