Neighborhoods Offer a 'Ray of Hope'
Posted by Lauren Thomas on Wednesday, April 08, 2020 at 8:54 AM
By Lauren Thomas / April 8, 2020
Comment
Last week we shared a story about the Tyler Park community keeping it social while social distancing. This week's story takes us to the Germantown-Schnitzelburg neighborhood and their "rainbow connection" outreach.
Residents are keeping their children busy during the day drawing rainbows and positing them in their windows for neighbors to find on daily walks. Numerous neighborhoods are now participating in these rainbow scavenger hunts.
One Germantown resident Jessica Goodall said this about the new activity that is taking hold of the neighborhood.
"My kids need the creativity challenges to keep them stimulated during the day, I think anyone can agree that screen time is hard to get children away from. Now that we can't go gather at parks, zoos, etc., there needs to be some activity for them. I think it all keeps their mind off of the negative effects this virus has on the world."
You could be the first person on your block to join the fun.
The link below is the full article from Courier-Journal. Do you think you could do this in your neighborhood? Let us know!
https://www.courier-journal.com/story/life/wellness/health/2020/03/18/louisville-families-make-rainbows-combat-coronavirus-isolation/2865334001/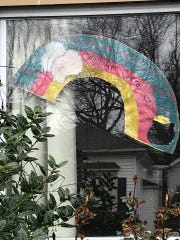 (Photo Courtesy of Courier-Journal and Marilyn Belak)